Sporting Foot Problems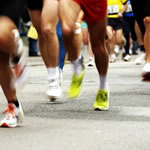 Whether you're a runner, football player, swimmer or casual jogger, whatever sport you play will undoubtedly have an impact on your feet.
Common sports related foot conditions include callus (build up of hard skin), fungal infections of the skin and nails, verrucaes and more.
I can help with all these conditions allowing you to continue playing your sport at peak performance.
Get A FREE Copy Of Our 10 Top Tips To Keep Your Feet in Tip Top Condition