Cracked Heels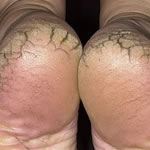 Cracked heels are very common and are generally not a serious condition, however, if the cracks are left untreated then they can become deep and split open. These then bleed and can become a source of infection.
Treatment
The area will be pared, using a scalpel and filed until smooth. Specialized cream and padding may also be applied, depending on the severity.
Advise would be given about the correct footwear and ways to prevent the cracked heels from reoccurring.
Get A FREE Copy Of Our 10 Top Tips To Keep Your Feet in Tip Top Condition